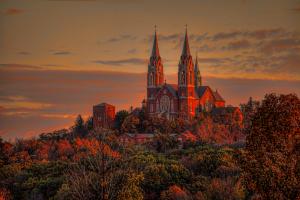 I had an opportunity to go to the Holy Hill Basilica this fall with the changing leaves, which has been on my list of places to photograph. It is one of southeast Wisconsin's iconic landmarks. The basilica is northwest of the City of Milwaukee. It is located in the Town of Erin, near Hubertus, among the farm fields and woods. It resides at the highest point in this area of Wisconsin. The Holy Hill Basilica is a landmark situated on 435 acres of rural countryside and can be seen for miles. Holy Hill National Shrine of Mary, Help of Christians is a Roman Catholic shrine dedicated to the Virgin Mary. It was declared a shrine as early as 1903 and was raised to the status of a minor basilica in 2006. But as far back as the 1700's or earlier, Native Americans thought of it as a holy place. Built in 1926, this church has over 500,000 visitors from all over the world every year.

I had done some research beforehand, for its location and the roads surrounding it. As I headed out on this morning, there were clear skies. I had hoped for some clouds. As I arrived here, the clouds had slowly started to move in, perfect! As the morning went on, the sky became overcast. With the church located high on a hill, the morning light is the perfect time to photograph it. On this morning, the rising sun's reddish light enhanced the brick walls.

Check out my Fall/Autumn collection http://dalekphotography.com/collections/fall+autumn for the images of Holy Hill, enjoy! My images are available as prints (framed, canvas, acrylic, metal, wood or posters), greeting cards, throw pillows, tote bags, phone cases, duvet covers, shower curtains, fleece blankets, towels, spiral notebooks and coffee mugs. These products are available at: http://dalekphotography.com/.