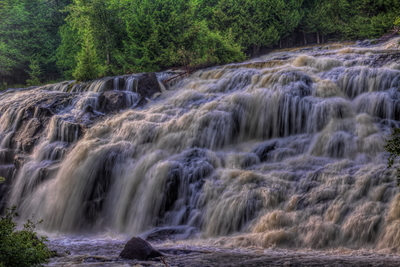 Recently I made a trip to the Upper Peninsula of Michigan to photograph at Bond Falls Park. The Upper Peninsula or UP is known for its quality and quantity of waterfalls. Bond Falls is a 50 foot waterfall from the outflow of Bond Falls Flowage located a few miles east of Paulding in Ontonagon County, Michigan. The falls is part of the middle branch of the Ontonagon River in this western portion of the UP of Michigan. The river above the falls is beautiful with its many cascades and rapids. Bond Falls is named for Oliver S. Bond, who once owned the property. Bond Falls Flowage was created in 1940, when a dam was built on the river. A small sawmill town named Calderwood was flooded in the formation of the flowage. Bond Falls Park is a very popular tourist landmark. Bond Falls Park is a Michigan State Scenic Site. This is the best single waterfall in the western UP and the second best waterfall in Michigan. The park has a boardwalk surrounding the lower falls making this area very accessible. The river above the lower falls is accessible on both sides for those who like to climb the trails.

Looking at my images, you might notice something different from the typical pictures you see. It is the details shown. Fast moving water or waterfalls are not shown blown out white and a blur, but have details. When I go to photograph a waterfall, I take several exposures of each of my compositions, not just one and call it good. I process these exposures to find the one that best suites that composition. Take a look and see that difference.

Images of this great park are available in my waterfall collection at: https://dalekphotography.com/collections/waterfalls, enjoy! My waterfall images are available as prints (framed, canvas, acrylic, metal, wood or posters), greeting cards, throw pillows, tote bags, phone cases, duvet covers, shower curtains, fleece blankets, towels, spiral notebooks and coffee mugs. These products are available at: https://dalekphotography.com/.